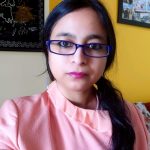 Jyoti Jha is a Creative Writer, Author, Literary Critic, and Columnist with a demonstrated history of working in the human resources industry.
An MBA by qualification, and having worked with companies like Syngenta, Whirlpool, and Infosys in the HR domain in the past, she made a conscious choice of taking a break from her career and traveling places with her family while she cherished raising her child.
All these years she engrossed herself in reading numerous books, both at home and in the quiet libraries. While reading was enriching, she realized, writing makes her feel liberated.
A moment of contemplation, and a decade later; her passion for expressing through words, an observational nature, and intensive listening skills, motivated her to embark on her way towards a second inning.
Winner of TOI (Times of India) Write India Season 3, and awarded as 'Author of the year' in Litfest2020 for her book 'Around The World Through My Lens', she has won the title 'Best Reviewer of the year 2020' by The Literary Mirror. Many of her posts like 'Recycling- A contemporary scope of eco-architecture', 'Indian Startups- All doom and Gloom' have been featured and published. She is also a proud contributing author in the unique Anthology 'The Woman That I Am'.
Her book 'Around The World Through My Lens' is featured as 'One of the Indian masterpieces not to be missed' by the prestigious media house 'The Statesman'.
Her second book 'The Realms of Human Emotions' is out now and has been much appreciated by, both the readers, and the major media houses like Times of India, The Free Press Journal, and The Statesman.
A globe-trotter, and an avid reader, she likes tussling with words. She welcomes you to take a plunge into her favourite genre as she reviews movies, books…. explores her writing, and shares her journey of becoming an Author.
Thanks for stopping by!
News, Media & Features- 
The Dispatch- IIT Delhi Book Launch
The Free Press Journal- Book Review
Times of India Book Review- The Realms of Human Emotions 
Postman News- The Realms of Human Emotions 
The Statesman- The Realms of Human Emotions
The Statesman-6 Indian Masterpieces
Ten Indian Authors Redefining Modern Literature
SchoolLife-Filmy Pathshala- Celebrity Talk Show
50 Notable Books of 2020 by Indian Authors 
Storiyaan- 5 Min Bit with Jyoti Jha
Digital Book Launch- Filmy Pathshala- School Life