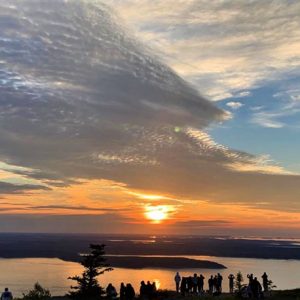 An idyllic habitat beholding the diversity of species and natural resources in plentiful, adorned by the intelligent humankind evolving every day to newer heights. Whether natural or man-created problems, learning to sustain and thrive each day.
All of this suddenly brought to a halt with the pandemic Covid-19, and which created the fleeting experience of near 'sixth extinction'. However, just as the intrinsic adaptive and innovative nature of humans has helped survive situations like severe climate changes, diseases, wars, and several adversities in past, we will slowly pave the way to emerge from this current situation, survive and succeed.
As we step towards a new normal and adapt to the changing scenario, filled with positivity and endurance, let's contemplate what would life look like after Covid-19?
Adapting Sustainable Lifestyle
The pandemic has taught us to live with the essentials and acquire a minimalistic approach towards consuming resources. While, reducing pollution, creating environment-friendly ways, protecting the Earth, following the seven R's of Recycling and Zero Waste, etc would prevail on broader aspects; at personal levels, people will focus more on eating healthy and home-cooked food, reduce consumerism, remote working, increase savings, prioritize health and fitness, etc. 
Family-centric Community and Work-life Balance
Family is the core of any civilization, and the Corona Times has brought us back to that realization. We have learned to care for the family and work together as a team to protect each other. As we would continue to maintain distance from society as a whole, families would come together to share chores and responsibilities, to take care of the elders and children, developing stronger bonds would be paramount in a post-pandemic world.
As much as home-centric work has taken its toll on working professionals' working standards, people would have to comprehend that it has created an opportunity for family-times and work-life balance.
Restructuring Education
The education would be more digitalized equipped with smart technologies as the post-COVID days would still need to continue with the new normal of social distancing, sanitization, wearing masks, and other precautions. To contain and reduce the risk of spreading the disease, schools and educational institutes would have to carry on with virtual teaching methodologies alternating with conventional teaching process with reduced class strengths.
Advancement in Healthcare
The pandemic has highlighted the dire need to upgrade the healthcare facilities in terms of creating more infrastructure, using digital health technologies, telemedicine, caring for the healthcare professionals as well as making the masses aware of the importance of hygiene and cleanliness. Both physical and mental health would be of priority to cope up with the situation.
A Sense of Unison
The pandemic has made evident that the world does possess the potential to rise together and stand as one to tackle the bigger problems that threaten humanity. The countries would need to continue acting in unison at a larger and global scale to beat the difficult times. Resolution and cooperation would need to be the key to international sentiments.
The tough times would surely pass and a better world will definitely surface. Until then, keeping our hopes and optimism high, working hand-in-hand, following the norms, and awaiting a proper vaccine and an infallible treatment for Covid-19, the world would continue to step towards safeguarding its people and generations.
Read how Urvashi has beautifully created a wishlist for the Future post-COVID where she has summed up all the key points that we as humanity need to understand now and learn.
#Covid19 #LifeAfterCovid19 #PostPandemicLife #PostPandemic #LifeAfterCorona #FutureAfterCovid19 #Health #Education #SuatainableLifestyle
#RestartRight
Glad to be in the winners' list of 'On the go Lifestyle Post Lockdown' by #Blogchatter