Reading is enriching and writing is liberating! I am an avid reader and I love to express my views and reviews through words. My foray into writing being only a year old, and the craft of writing still at an ongoing process of learning, I realized the importance of connecting and networking with other bloggers and writers and getting encouraged by their brilliant work.
Having successfully completed a Blog hop recently, I was motivated to participate in the marathon of the BlogchatterA2Z challenge. Churning out theme-based quality articles daily and continuously for 26 days seems daunting and yet thrilling. I look forward to giving my best and finishing it triumphantly.
The BlogchatterA2Z Challenge
In this blogging challenge, the participating bloggers must post one article each day barring Sundays, wherein their blogs collate with their chosen theme, and the posts correspond to 26 letters of the alphabet. The challenge takes place in the month of April every year.
My Theme for the challenge
"Jyoti's Travel Diaries"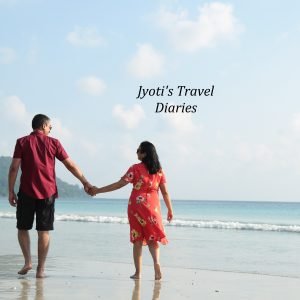 I had always delighted in my intelligent pursuit of a flourishing career in Human Resources and always wanted to thrive in the familiarity of my country, close to my family. But my chosen path was intervened by the supreme power when my husband was transferred aboard on a project. Taking a conscious decision of dropping my career and crossing the continents to be alongside him, I embarked on a new chapter in my life and lived it in leaps and bounds when I got abundant opportunity to explore various places across the globe.
During that time, I also revived my passion for reading voraciously. While reading was fulfilling, traveling taught me beyond books. It gave me newer prospects in life and opened up realms of peace and joy. Here at the BlogchatterA2Z challenge, I take the opportunity to present some amazing places around the globe and my memorable experiences with them, from my 'Travel Diaries'.
#Blogchatter #BlogchatterA2Z #BlogchatterA2ZChallenge
Subscribe to my blog to stay updated with each post and join my trip down the memory lane. See you around!