Whether it was the sheer joy of having adorable new members in our family or the magical feeling of just being together, we never realized when our tug of war slipped away quietly and we gladly booked our tickets to Pune together. These furry friends were a bribe to convince us to relocate to Bengaluru, and here we were, packing up our belongings to move back to Pune…all of us, including the cuddly bunnies!
When the blissful moment of glory and happiness passed, the realization hit that it was unsafe for the rabbits to travel via air. Although rabbits can travel on the airplane, it can be a daunting experience for them. Also, certain airlines do not allow traveling with bunnies.
Hence, we chose to enjoy the bustle of our incredible railway system and booked our tickets in advance.
Train Travel with Pet Rabbits
Rabbits are prone to get stressed easily and any form of travel can be straining for them. However, with proper care, tools, and techniques, it can be achievable and even made enjoyable for them.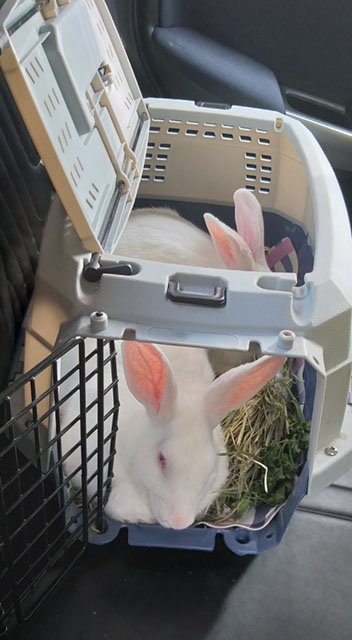 The Prerequisites
A spacious carrier– Smaller confined spaces of a carrier makes them feel safer and provides more protection than carrying them in large cages.
Carrier layering– Line the carrier with a towel, travel/training mat to keep them dry and comfortable.
Hay for the warmth– Put some hay bundles to keep them comfortable and the extra cushion prevents them from sliding around in the moving vehicle. It is also their food.
Favorite food/treat– Rabbits mostly avoid eating much during travel. A favorite treat could lure them into nibbling something and prevent them from remaining hungry for a long period.
Water supply– It is preferable to carry an attachable water bottle that doesn't spill or leak. Your furry friends need to remain hydrated.
Railway Regulations
Indian Railways is the best mode to carry your pets to long-distance as it is safe, affordable, and allows smaller pets to travel too. However, there are some rules to be followed for a smooth and hassle-free experience.
Pets need to be carried only in the AC First Class accommodation, and the entire cabin needs to be reserved for yourself. Remember, despite getting the permission to travel with your pet, if any fellow-traveler objects to the same, you will have to send your pet to the brake van. Hence, a coupe all to yourself comes quite handy.
After ticket booking, it is advisable to write to the Chief Commercial Officer-Railways to explain the special case of traveling with a pet so that you are allotted a coupe/cabin and not any random seat in the First Class.
There is a nominal conveyance fee that needs to be prepaid in the parcel office, at the station of origin. You need to reach the station beforehand to do that.
Our Fun-filled Adventure
After the initial discomfort and onset of stress due to a new environment and unfamiliar sights and sounds all around, our rabbits finally did settle down with ease. We fed them hay and their favorite food, and made sure to keep them hydrated throughout. Once they started becoming familiar with the new setup, we occasionally brought them out of the carrier and they even excitedly explored the berths we were occupying. They kept licking our hands every time we stroked them and made them feel soothed and secured.
Staring out to the rolling hills and landscapes, gazing at the expanse of nature's sights and manmade townships, we were gratified that we didn't have to worry about our friends being left out somewhere.
We were glad we brought them back home with us!
"Whoever says, it's only a rabbit, has never loved one!"
I am taking my blog to the next level with Blogchatter's #MyFriendAlexa.
For more posts in the series, visit here!
#MyViewsandReviewsWrites
#Blogchatter #MyFriendAlexa2020