Settling in a new house or environment is demanding for anyone, and for our cutest bundles of fluffy joy it can be even more stressful. As prey animals, rabbits are incredibly sensitive to any change in their environment, but following certain steps can help reduce their anxiety.
We arrived home in Pune with our adorable long-eared friends and took care to make our inherently delicate members acclimatize to the new place slowly and quietly.
The Steps for 'Operation-Happy and Calm Bunny' in the New Place-
Keeping the bunnies in their carrier for some time– After the draining travel experience, our furry friends preferred to curl up for some time in their safe-haven, 'the carrier'. Once they had enough time to calm down and rest for a while, their inquisitive nature kicked in, and the explorers were ready to venture out of their cozy corner.
Providing a safe Bunny zone– We had already brought with us the spacious cage they were already familiar with. We placed the cage at a distance where they could feel our comfortable presence around. It was going to be a permanent dedicated space for them to feel at home.
Once the furballs sniffed and marked their safe space of familiarity in their cage and its belongings, we went about our routine letting them wander around and get acquainted with the area on their own.
Giving them time and space– It is always advisable to be patient with bunnies in a new environment, giving them enough time and space to get acclimated to the new place. We did exactly that, and in no time, we were greeted with their usual frolic, nose-twitch, and binkies as they adapted well to the new place, new city, and same old us!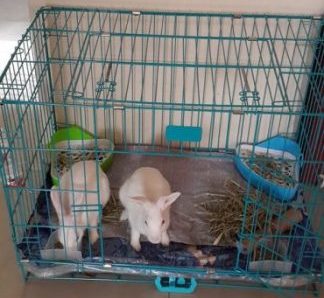 Rabbits are more than just cute fluffy eye-candy, and they have their peculiar ways of letting you know how much they love you!
Learning to Talk Rabbit
Those licks and nibbles– Bunnies show affection by grooming. They will nuzzle, lick, gently nibble at you, all this to show how much they love you and care for you.
Nose-nudges– Sometimes they just want to play with you, want to be stroked, pet and cuddled, demanding head-rubs or simply making their presence felt, by nudging at your legs and hands with their soft noses.
Plopping, lying down in ease and chilling– This is how your bunny lets you know they completely trust your presence, their environment and is happy to just lie around relaxed.
Binkying– A happy bunny binkies! Binky is when rabbits take a running lap, leap in the air, and twist their bodies kicking their feet. It is a spectacle and makes even the grumpiest of person to laugh out loud. Binkying is the dramatic expression of joy and excitement from rabbits. Sometimes bunnies attempt half-binky which doesn't indicate their half-happiness. They are as happy, but simply decide to express in a different stunt.
Purring and teeth-grinding– This is yet another joyful experience of being a rabbit-owner. While you head-rub your bunny, stroke, and pet them, you can feel their purring and gentle teeth-grinding that indicates your rabbit's happiness and contentment.
To be noted– A loud teeth-grinding or teeth-grinding accompanied with some other symptoms like a rabbit sitting tensed and hunched, or refusing to move or eat, showing aggression, can be a sign of health issue.
Digging– This is mostly their way of getting attention. Rabbits also dig simply out of curiosity, boredom, or to prep a comfortable spot to lounge in. Sometimes it may just be trying to establish dominance.
Chinning– Rabbits rub their chin, which has special scent glands, on various objects to mark their territory and express that it is 'mine'.
Thumping– Rabbits thump loudly with their hind limbs whenever they sense danger. Thumping is also their expression of displeasure at times.
Growling– Rabbits make growling and grunting noises whenever they want to be just left alone, or they are trying to show disapproval of their territory being invaded.
Screaming– Rabbits are generally quiet animals and seldom make any noise. If you hear your rabbit scream, it indicates your rabbit is in excruciating pain or greatly alarmed. Screaming only happens rarely in a rabbit's lifetime. If ever your rabbit screams, try to keep it close to you, comfort, and look for any injury.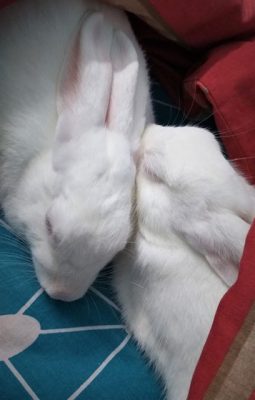 Rabbits can understand some human instructions and though they may not be as interactive as cats or dogs, they are as adorable as any other pets.
"Rabbits speak, but to only those who listen"
I am taking my blog to the next level with Blogchatter's #MyFriendAlexa.
For more posts in the series, visit here!
#MyViewsandReviewsWrites
#Blogchatter #MyFriendAlexa2020