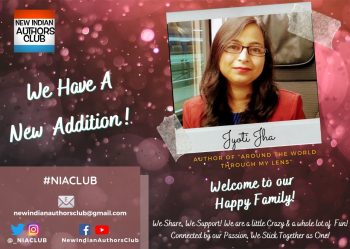 'Every Indian author deserves acknowledgment and appreciation!' NIAC provides a collaborative community to enable and empower all authors to achieve their goals.
New Indian Authors Club is a powerful voice for one that speaks for all! A wonderful family of authors who establish their individual brands all the while growing together as a community that creates value for everyone. A place where NIAC Ambassadors are acknowledged and appreciated within and outside the community and the members look out for each other.
The exciting campaigns of the NIACLUB are recharging and boosting for aspiring authors and community members. These campaigns take the community to a whole new level!
I am proud to be a part of this brilliant community.
Check this out!
New Indian Authors Club – Meet the Author
#NIACLUB
#writingcommunity #writersofindia #authorlife #authorclub #authorscommunity #indianwriters #bookcommunity #authorssupportingauthors #authorsupport #authorclub