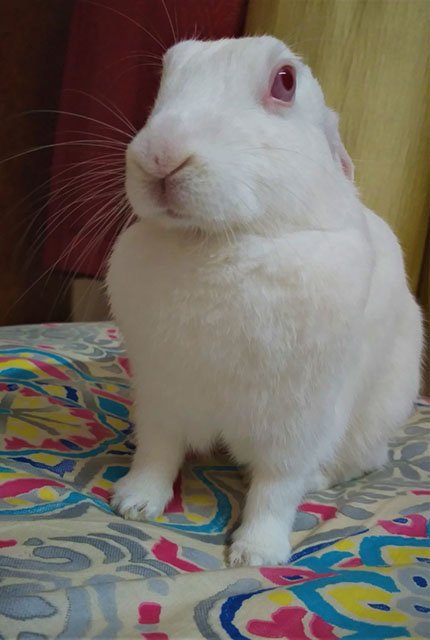 It was April of 2018 when we visited Bengaluru during summer vacations. Well, it was more of a family reunion as my husband had been in the city for over a few months on a new assignment, and I was still dwelling in Pune with my son, contemplating whether to persuade myself to relocate to Bengaluru or convince my better half to get his work reassigned to Pune.
The boon of being married to a software professional had been the various job opportunities at multi-cities within the country, and some globe-trotting. And the bane, of course, was the continuous relocations and the permanent feeling of being a nomad.
After a long drive from the airport, as we entered the place rented out by my hubby near his office, we unanimously squeaked in merriment and surprise as we spotted two snow-white tiny furballs in a small cage right in the middle of the hall. Their bright-reddish eyes wide, and curiously gazing at the new entrants in the house.
"Here are your new pets", I heard my husband gleefully announcing to our ten-year-old, as I rushed to pet the cuddly little beings who seemed eager to pounce out of the cage. My son had been pestering us for a pet for quite some time now, and I had always imagined a dog or a cat in our house someday. This was a pleasant surprise! And a plus-one in my husband's scorecard for Bengaluru (My husband and I were at a tug of war on the whole relocation issue, and while I stood by the Prestigious Pune, my husband voted for the 'Garden city, Bengaluru')
"These are only rabbits", is all I could think even while giggling at those hoppy-legs, long-ears, and twitchy-noses, now out of the cage and exploring the nook and corner of the room around us.
Rabbits are adorably cute and their vibrant presence soon started growing on us. While I began researching all about them, my husband kept gloating and anticipating that his bribe might just lure us into moving to this city.
Rabbits as Pets
Rabbits do make great pets when you plan well, prepare, and know what you are getting into!
The Fun Parts of Pet Rabbits –
Rabbits have a long life. Rabbits can live up to 7-12 years with proper care and handling. Domestic rabbits have a longer life-span as compared to wild rabbits.
Rabbits are gentle, docile, and friendly. Rabbits are prey animals, and hence they are naturally gentle, alert, quiet, and submissive animals. When spayed or neutered, there are even lesser chances of aggression in their behavior. Sometimes they gently nip at you playfully, but mostly they love being stroked, being played with, and handled gently.
They bond closely with the owners and can recognize them.
They need less space and they can be litter-trained. Bunnies make good pets even in small apartments as they don't need much space. They can either be kept in cages with a few hours of playtime outside the cage or as free-roam bunnies. They are mostly happier and safer inside the house, and they don't need those daily walks.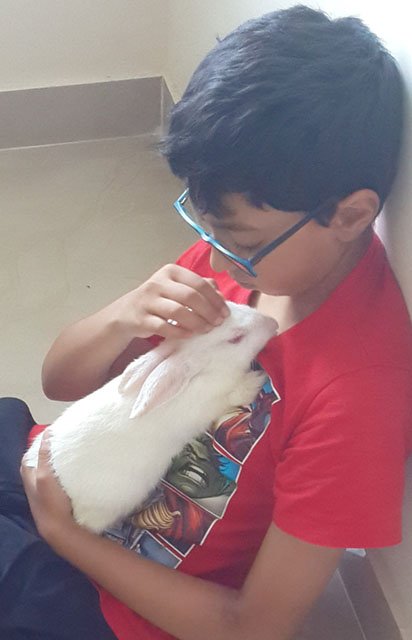 Rabbits are one of the most hygienic animals, and with a little effort, they can be easily litter-trained. They prefer those private, secluded litter spots as much as they love to groom and clean themselves regularly.
They can learn various entertaining tricks and can follow certain commands. They are well-disciplined and love to follow their daily routines.
Rabbits are often safe for people with allergies and severe allergies to rabbits are generally unusual, although not completely ruled out.
The Downside of Pet Rabbits-
Rabbits aren't usually great pets for smaller children! Rabbits need ultra-care on a daily and weekly basis, and a lot of responsibility in handling and managing them. They make good pets for older kids and adults.
Rabbit-proofing the house! Rabbits love to chew and scratch. Beware of those wires, door corners, furniture corners, etc. However, there are ways to bunny-proof your house.
Rabbits are fragile! As compared to other pet animals, rabbits are very delicate and fragile. They need much care and attention. Rabbits are prone to certain illnesses, they can get sick quickly, and they can also get injured easily. Proper monitoring of their diet, daily routine, and exercise can keep them safe and healthy for a long time.
Rabbits need company and daily exercise hours! Rabbits are social animals and live in groups. It is always preferable to keep more than one rabbit as pets. They also love the human company around them when domesticated.
To remain fit and healthy, rabbits need a minimum of 2-3 hours of daily exercise. They can either use a playpen or explore around the house which would give them the daily dose of fitness regime.
It is expensive to maintain rabbits! Rabbits eat more than carrots. They need fresh leafy greens, lots of hay, fresh and clean water, food-pellets, occasional treats, and regular vet care. They also need a cage, litter-box, feeding bowls, hay-feeder, chew-toys, playpen (not if they are free-roam), grooming kit, and cleaning supplies.
Rabbits can bite and become aggressive! A cornered rabbit may bite, scratch, and become territorial.
All said and done, with the right care and attention, rabbits make great pets!
Remember, "Once a bunny loves you, they will always love you"
I am taking my blog to the next level with Blogchatter's #MyFriendAlexa.
For more posts in the series, visit here!
#MyViewsandReviewsWrites
#Blogchatter #MyFriendAlexa2020