Way too advanced bookings, fluctuating travel scenarios, and some unpredicted momentary hitches… I was not superbly thrilled about our upcoming holiday to Andaman. But I am eminently gratified today that we did take that trip to the paradise and immensely thankful to the close ones who stood by those fleeting moments of indecisiveness and helped me transform my flickering thoughts of considerations into firm decisions.  
Andaman is a group of islands in the Bay of Bengal and is filled with abundant natural beauty and a plethora of exotic marine life. It is a sight to behold with shimmering turquoise waters, toasted sandy palm-lined beaches, majestic mangroves, marvelous limestone caves, and cherished National memorials. Based on my expedition insight, here I attempt to present Andaman through my lens…
Holiday duration: 6 nights and 7 days
An ideal trip duration to Andaman is a minimum of 5-6 days and a maximum of 10-15 days so that you can cover all popular tourist places, go Island hopping and indulge in various water sports activities. Nevertheless, you can decide the number of days based on your preferences of including/excluding different sites, how rushed/relaxed you want your trip to be, time at your disposal and budget, etc. 
Time of visit: December 
Although Andaman is accessible throughout the year, November to March is considered preferable due to good weather, moderate temperature, clear skies, and calmer seas.
Getting there: We took the air route from Kolkata to Port Blair. 
Most people prefer taking flights from either Kolkata or Chennai, however, there are also Passenger ships running to Port Blair from Vishakhapatnam, Kolkata, and Chennai. 
Day 1. Port Blair 
A multicultural town representing various local traditions, Port Blair is the capital and a gateway to Andaman. It is connected to all islands through ferries and is linked to North Andaman by road. 
Corbyn's Cove Beach: 
Corbyn's Cove Beach isn't an enticing picturesque beach as compared to other beaches of Andaman, but it is a welcome relief from the travel hassles, break from town and a cheerful pause before you propel into the busy days ahead. Take a delightful drive through a scenic coastal road passing several Japanese Bunkers and reach the mesmerizing stretch of silver-sand fringed with synchronized palms. Relish some mouth-watering snacks, enjoy coconut water and acquaint with the adrenaline rush through some water sports activities here. 
Cellular Jail and Light & Sound Show: 
Cellular Jail is a historic building where every brick cries out the saga of Indian freedom struggle and the barbaric atrocities imposed upon the freedom fighters deported to the island during Imperial Raj and incarcerated in tiny cells under various charges of treason and subjected to inhuman tortures. 
The Light and Sound show narrate the story of inmates of those cells like Veer Savarkar, Batukeshwar Dutt, Yogendra Shukla and many more, and it is bound to bring tears to our eyes as we gratefully salute to the sacrifices of those patriots and realize the value of our freedom.  
With heavy hearts and mindful thoughts, we strolled in the Veer Savarkar Park opposite to Cellular Jail. The park commemorates the national heroes in the form of their statues and memoirs. It is small, beautiful, clean and refreshes you with some tea-stalls, snacks and wandering friendly pigeons. 
Transport within Port Blair and Transfers from Port Blair to other islands-
Taxis, Bike rentals, and Auto rickshaws are convenient modes of transportation within Port Blair. We had pick-up/drop facilities pre-arranged by our trip organizer but we did explore a couple of auto rides and relished the serene evening walks alongside the coast and quiet roads. 
Government Ferries and Private Ferries are available for inter-transfers from Port Blair to other islands. While Private ferries are faster and have newer vessels, they are quite expensive as compared to government ferries which are cheaper but slower and have older vessels.  
Where to eat –
Annapurna pure veg – Very popular south Indian restaurant and a good choice for a wholesome meal. 
Amaya – For experiencing luxurious rooftop lounge overlooking the ocean and delight in some seafood.  
Happy Belly – A food truck fun alongside the coast, offering delicious and hygienic continental food affordably priced.  
There are some other places to try out as well- Ananda, Golden Dragon, Icy Spicy, New Lighthouse restaurant, etc. 
Where to stay – 
TSG Grand– It is an elegant hotel within close range from the airport. They provide good hospitality and tasty food. 
Seashell Hotel– It is a luxurious resort tastefully providing splendid experience with beautiful rooms, seafood restaurant and a rooftop lounge bar with Seaview. 
ARS Hotel– A decent hotel with friendly staff and home-like food cooked to taste. 
Day 2. Ross Island and North Bay 
Take a private ferry or public boat ride from Rajiv Gandhi Water Sports Complex or Phoenix Bay Jetty to either place.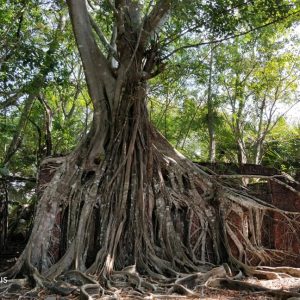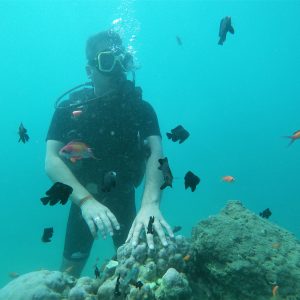 Netaji Subhash Chandra Bose Island (Ross Island) – Formerly known as Ross island and located about 3 km from Port Blair, the island was referred to as 'Paris of the East' and was an erstwhile capital during the British regime. Walk around or hop on a golf-cart ride to hear the ruins narrate the history of a former era and see the remains left behind after the earthquake that nearly split the island. The island took the brunt of Tsunami and shielded Port Blair from grave destruction. Relax in the shades of coconut trees with deer and peacocks and pet them. 
North Bay Island– The island is alluring with its beautiful coral reefs and ideal for water sports activities like Scuba diving, Snorkeling, Sea-walking, and Glass-boat ride. The lighthouse seen on the 20-rupee note is on this island. It is a lively beach.
Having a brush with history, bonding with nature and luxuriating in some fun-filled water sports made our day as we cheerfully returned to Port Blair. 
Day 3. Havelock (Radhanagar Beach)
Early morning about two-hour sail from Port Blair to Havelock started our day. Initially resentful on discovering that our tour operator had accommodated us in the government ferry, we did later end up enjoying the deck view of the wispy radiant sea-waves, breezy crisp winds and gleaming sunlight filtering through the infinite hues of white clouds.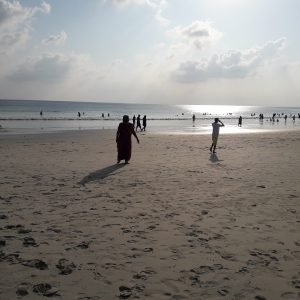 Havelock Island, officially 'Swaraj Dweep', is an oasis of sublime silky-white sand beaches, twinkling crystal-blue waters, and verdant forests. After a brief respite and quick refreshment at our fabulous resort, we headed towards the most popular Radhanagar Beach. 
Radhanagar beach has a vast stretch of pristine shores and aquamarine waters, and its pictorial exquisiteness lures many to hire the services of professional photo-shoot while at the beach. Sit quietly absorbing the stunning view, stroll along the beach, make a splash in the clear waters and groove along the gentle waves. Clean and spacious changing rooms are available here.
Golden Pebble Resort– An amazing accommodation in Havelock, has lovely units with garden views and a comfortable seating area outside the rooms. Quiet cottage-like feeling and slightly away from the main roads, it gives warm welcome with responsive staff and homely food cooked in-house. Immaculate, capacious and with free wifi, it was perfect bliss.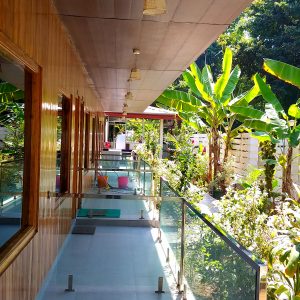 Day 4. Elephant Beach 
We enjoyed our 20-minute speedboat ride from Swaraj Dweep to Elephant beach, cutting across the deep green waters and clad in the safety gear of life jackets. For those who wish to be more adventurous, there is also a trek through the forest for about 40-45 minutes to reach the place.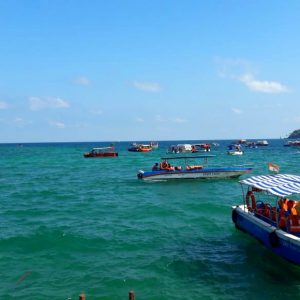 Although slightly smaller, it is an enchanting beach with turquoise open sea complemented with hill-view in the backdrop, fallen tree-trunks, creeks of mangrove and wonderful coral reef. Snorkeling and Sea walk is a must among water sports here. It is absolute fun and frolics whether you join in the water sports or sit under the thick trees savoring fruit plates or bhel, sipping coconut water or tea. Changing rooms, toilet facilities and showers are available. The enforcement of 'no litter' rules has upheld the beach clean as a whistle. 
A day well spent and then back to Havelock for a quick grab of light lunch, picking up our luggage from luggage locker and onboard the ferry towards Neil island.
Sunset at Laxmanpur beach, Neil island– Laxmanpur beach number 1 may not be suited for swimming but it beholds a breathtaking sunset point amidst the white flowy sands lined with dense trees. We drove to the spectacular sight from ferry docks near Bharatpur beach (Neil island jetty) and witnessed the wonder right in time. Basking in some tranquil moments at the shore, seated at the wood benches of numerous food stalls with the background of thick vegetation, munching at some hot pakoras & Maggi and admiring the crimson skyline was divine. Then we headed towards our hotel for the night stay.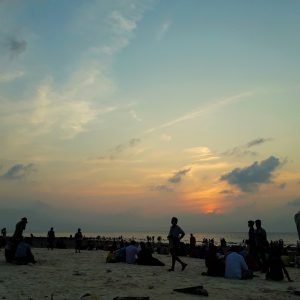 Day 5. Neil Island- Bharatpur beach, Laxmanpur beach, and Sitapur beach   
Laxmanpur beach 2: Natural Gate or Howrah Bridge
More accessible and enjoyable during low tides, this beach presents various sea life in the shallow waters collected between rocks- colorful small fish, sea urchins, starfish, sea anemone, crabs and small corals, etc., a natural bridge (Howrah Bridge), many rock formations and a cautious, unique and adventurous trek through corals.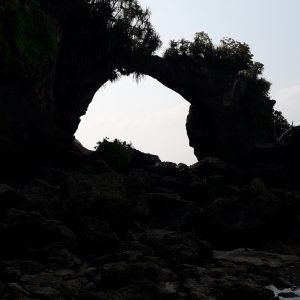 It is not recommended for the elderly and it is best to tread in comfortable footwear and travel bags-free. It is advised to explore the site with a hired guide who would help you through the corals, enlighten you with interesting facts about the aquatic life, photoshoot, and give a stimulating involvement of feeding the fish with your bare hands. It is a complete exhilaration and worth visiting and many who have superficially viewed it, wouldn't even realize what they have missed.
There are food stalls just before you start descending towards the coral trek, and where the elderly can be pleasantly seated in the company of welcoming stall-owners and can enjoy the view from the top while sampling fresh fruits, refreshments, and hot tea.
We halted at one such stall there, that of charming Mrs. Nikita Das and her affable husband who were very helpful and warmly welcomed us. My mother waited in their kind company while we explored the aquatic life and coral-filled tracks below. Mrs. Das served us organic, freshly ripe fruits and refreshing lemonade.   
Bharatpur beach: 
Just when I was contemplating that I had enough of beaches, we visited Bharatpur beach and my thoughts had an instant turnaround to 'one can never have enough of it'. 
Every beach in Andaman is different and has its own exclusive impression! Bharatpur beach is a masterpiece of nature tempting you and your family to spend some quality time swimming, enjoying water rides, absorbing the vibrant atmosphere of buzz under the shades of profuse greenery or relaxing in the seclusion of isolated areas, observing the clear waters, shopping and eating. There are large changing facilities, agreeable seating areas and some good restaurants to serve delectable meals near the shore.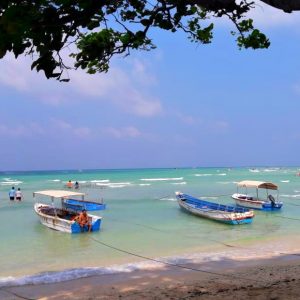 Sitapur beach: 
This is yet another gem of a beach to enamor your senses with stunning sunrise in the impressive backdrop of natural vegetation. It is a rocky beach and risky to enter the water. Perfect for morning meditations and musings.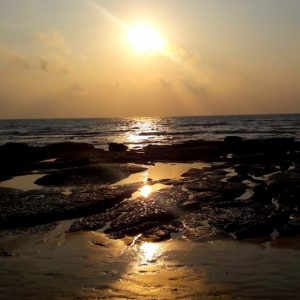 'Neil Island is known as the vegetable bowl of Andaman'
Amullya residency in Neil island– Accommodation at Amullya may not be that of a sophisticated hotel but there was something about the place that strung at the hearts. Mediocre decent rooms and average food quality but ample outdoor seating area with activities like carrom board, cycling and a mini garden overlooking the narrow country roads covered with green trees on both sides. A home-stay feeling where you could just step outside your room, enjoy the outdoor space and take a carefree walk along the paths. The staff was extremely helpful, polite and friendly.  
We hired a scooty to explore the small and confined vicinity of Neil island. It was simply awesome! It is a remarkable escapade and a rather convenient method to explore the shortly placed distances of different beaches in Neil island by scooty, cycling or even long walks.
From spellbinding sunrises to soothing sunsets, excursion with marine life and natural rock formations, enlivening in the spirited beach activities and engrossing in tasteful meal, we started for Port Blair, bidding adieu to Neil island.
Day 6. Baratang Island  
A tryst with nature driving for about three hours through the tropical evergreen forest area of Jarawa tribal reserves which are controlled and operated by the government for the protection of indigenous tribe, a trip to Baratang is fascinating and quite a break from the blues and sands rendezvous so far. The major attractions here are Limestone caves and Mud volcano. 
Becoming briskly popular now, Baratang is still considered very remote and it is a hidden jewel of Andaman.
We embarked upon a three-step journey to Limestone caves early morning at 3.00 am to reach Jirkatang village. The convoys from Jirkatang check post are allowed only at restricted times throughout the day and we chose to catch a 6 am convoy.
It took roughly over an hour from Port Blair to Jirkatang where we registered our vehicles and joined the convoy to be led by a state bus with armed forest guards on board. It was a short halt and we could freshen up at the government restrooms, visit tea stalls serving hot cups of tea and treat on appetizing south Indian breakfast.
The second step involved a 3-hour road trip from Jirkatang to Middle Straits via the stretch of Andaman Grand trunk that passes through the forest reserves of the Jarawa tribe. The vehicles move at a steady speed and in a single line without overtaking, honking, stopping or rolling down windows. Photography is strictly prohibited in this area and forest officials are patrolling at regular intervals. With sheer luck, we were able to see many Jarawas on our way and we couldn't help pondering in amazement how the traditionalism and modernity coexist in harmony there.
Jarawa tribe- 
Jarawas are the early inhabitants of Andaman who have been the warriors and uncompromising defenders of their terrain. Previously leading nomadic lives, they have started making small settlements in the forest in recent years. They are hunters and gatherers who survive on fruits, honey, wild pigs and fish. They live in synchronization with the nature and environment around them. They have lately started to extend their hand towards civilization by wearing clothes, attempting to converse and accepting medical treatments in hospitals.
While it is advantageous to spot the people of the tribe, it is highly suggestive that we do not believe the myth that we are on a 'human safari' to see them. Respect their privacy and their authentic way of life! 
The third and final step was boarding a vehicle ferry at the Jetty to reach Baratang. These ferries can accommodate both passengers and vehicles like cars, buses, and trucks. It was a 10-15 minutes ride to Baratang.
Limestone caves:
Alighting at Baratang jetty, we were seated in a shared speedboat towards Limestone Caves. The trek through these caves is not suitable for the elderly, and they can sit in the cool shades of lovely and comfortable eco huts. There are a few food options around. 
About 20 minutes boat ride amidst the splashes of water and occasional rocky waves was thrilling which then lead to the nature-made and awe-inspiring tunnels of dense mangrove plantations. There is a plush trail of wavy tree-knots and canopies. It is a crocodile prone area.  
The boat anchored near a narrow wooden bridge from where we trekked for about 2-3 km to reach the entrance of the Limestone caves. The boat operator guided throughout the trip and briefed about the significance and history of these caves and structures. The trek was super-charging as it passed through walkways made by cutting the dense forest and large stones.  
The cave surrounding is pleasant and the conch shaped structures and pillars of stalactites and stalagmites formed inside the cave and which hold the secrets of Andaman, are the highlights of this place. Many of these naturally formed shapes resemble a shell or some Indian Gods or some other structures as one would like to interpret.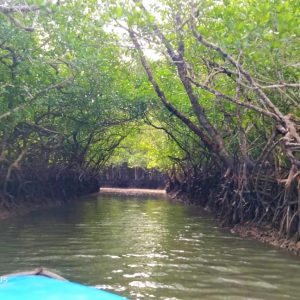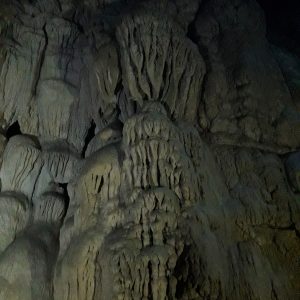 Marveling at these natural wonders as they stand tall since time immemorial and would continue to exist even when we are long gone, we headed back towards the speedboat, replenishing ourselves with freshly prepared lemonades in the shacks along the way. The lemons are grown by the locals and are very sweet, fresh, and reasonably priced.
We followed the same route to reach Port Blair and took rest for the night as we prepared to bid adieu to this wonderful place on the fresh morning of Day 7.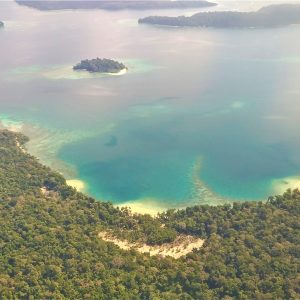 For a visual tour around Andaman and some more amazing places across continents, grab a copy of my Book!

To read my article in Hindi, visit अंडमान – एक अद्भुत अनुभूति